The annual UEC banquet was held Feb. 27, 2021, at the Davis Conference Center in Layton, Utah. It was a hybrid event because of the COVID-19 pandemic, and members of the UEC either attended in person or watched a livestreaming video. The hybrid format meant people were able to participate from as far away as Connecticut. Scholarship students watched in real time with their friends and other students.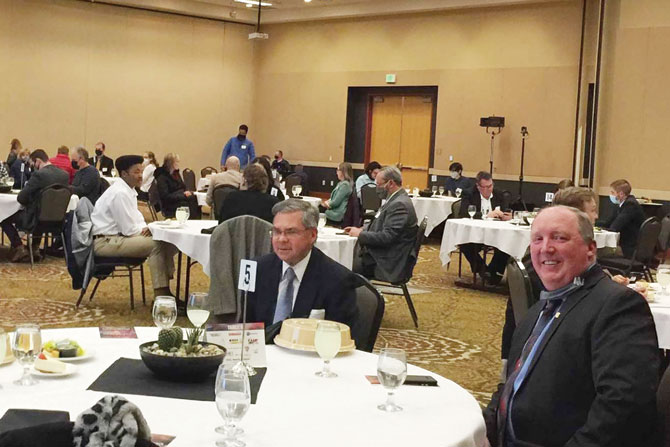 Those who organized, prepared and attended the event in person followed all COVID-19 protocols to ensure everyone's safety. The evening usually includes a delicious dinner, and this year's event was no different, but the organizers were careful to remember and include everyone who didn't attend in person. Virtual attendees received food certificates so they could order food and eat at home while watching the banquet. For them, the banquet was a party of their peers with food delivered by Uber Eats!
The most interesting part of the banquet is often the presentation by the guest speaker. Scotty Nowlin was a great speaker. He was very engaging, and after the banquet night, he helped UEC put together a narrative to go with the slides he presented. See Scott Nowlin's Banquet Presentation for a close approximation of what he said; it will give you some idea of the ideas he discussed. It was inspiring. We appreciate his participation the night of the banquet and his cooperation in preparing material for the magazine later on.
Thank you to everyone who watched or participated during a memorable and enjoyable evening. It set a high standard for the future, but we are already looking forward to the 2022 banquet, and we hope to see you there.